Thinking of having your TV wall mounted and not sure where to start? Want to know how much it costs or whether you should attempt it yourself? Or want more info on concealing the cabling? This post will cover everything you need to know! And you can trust we know what we're on about since we do these jobs every day!
Whatever the reason you want to mount your TV on the wall, whether it's to save space, or you just prefer the look of it, in this post we're going to tell you how to do it safely and all importantly, securely! You don't what that brand-new TV crashing to the floor or landing on a family member do you?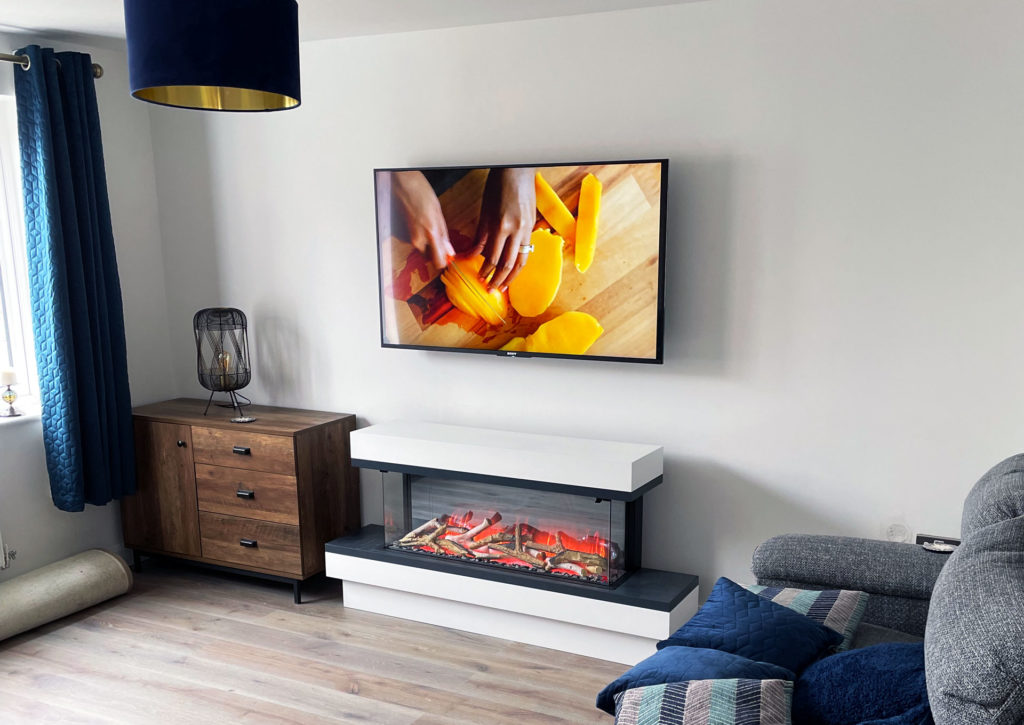 Guide contents:
What is the Best Type of Wall Bracket for a TV?
TVs are getting larger and larger. If you don't have tons of extra space in your house then wall mounting the TV is the only option. So which type of wall mount is best? Well, the type you should choose depends on where it's going to be installed and the viewing angle needed. There are three basic types of TV brackets to choose from…. full motion, tilt or fixed.
Fixed
Fixed TV wall mounts are the easiest and most basic type. But beware, once it's mounted you won't be able to move the TV at all.
Tilt
Tilt mounts let you adjust the TV up or down which is useful if the TV is going to be high on the wall and you need to angle it down.
Full Motion
Full motion mounts have a moveable arm that allows the TV to extend out from the wall. It can be angled towards the viewer's position. It's also handy if you need to put the mount in a corner where the TV wouldn't be able to sit flush with the wall. Or if you just want to have more flexibility in how you arrange your living room.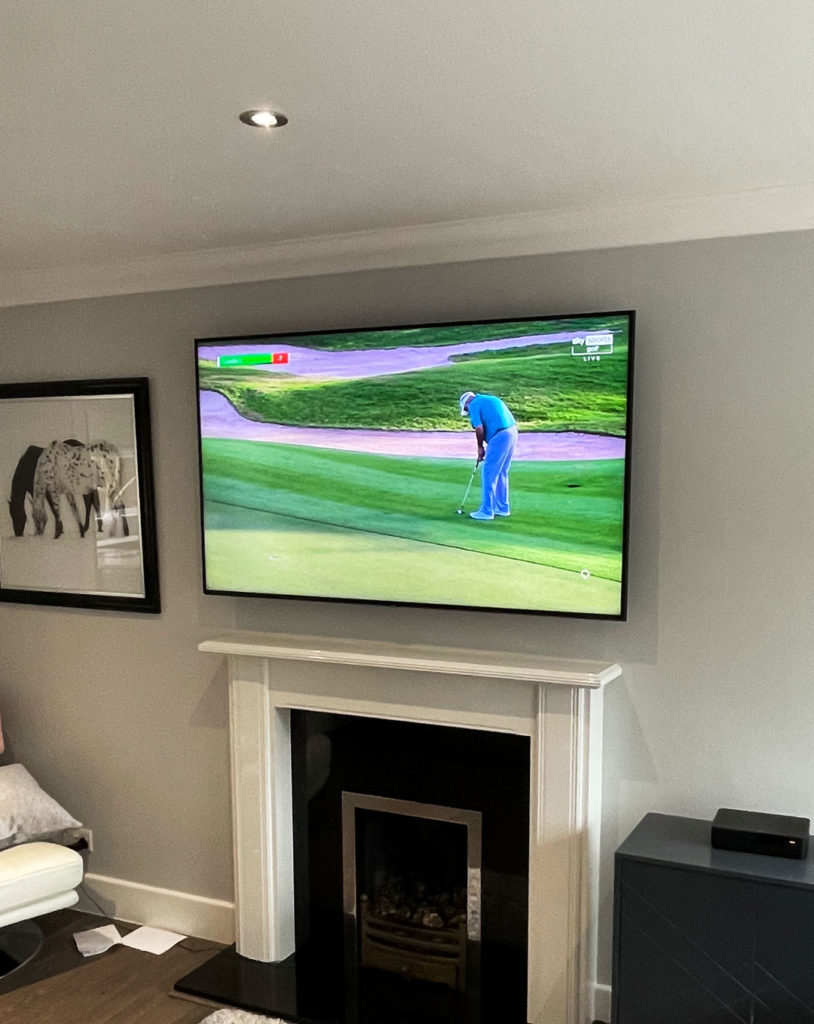 Can I Attach Any TV to a Wall Mount?
The simple answer is yes, most TVs on the market at the moment can be wall-mounted. Therefore once you've chosen what type of TV wall mount you'd like, you need to make sure it's compatible with your TV. Thanks to VESA this is simple. Most TVs that are released have holes in the back to screw a wall mount. When buying a TV you'll see measurements for a VESA mount, and this is a sign you can wall-mount it.
What is VESA?
VESA stands for the Video Electronics Standards Association. It has established an interface standard so you can easily see whether a wall mount is the right fit for your TV. All VESA-compliant mounts have a measurement in millimetres that tells you whether the holes in the bracket will match up with the holes on the back of your TV.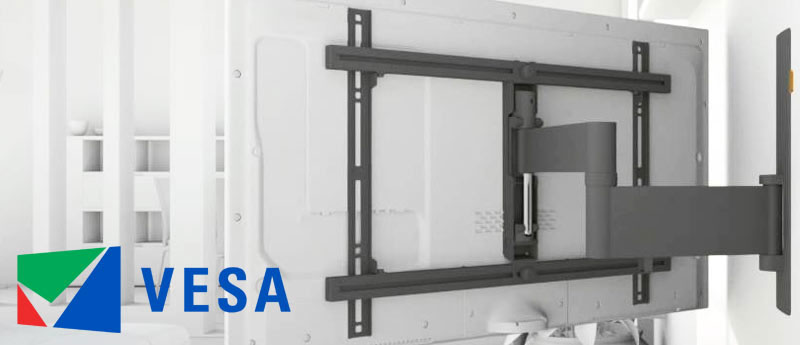 Check the VESA website here for more details: https://www.vesa-standard.com/vesa-standards.html
When you're shopping for a mount, make sure it supports the size and weight of your TV. You can check your TV's manual or a product listing online to determine whether a mount is compatible. Just because the VESA measurements line up doesn't necessarily mean that the mount can handle your size of the TV, so it's worth checking. Newer TVs are thin and light, but if yours is a bit older then it's probably heavier, too.
How Much Should I Spend on a Wall Mount?
The cost of wall mounts can vary enormously – prices can range from £20 all the way up past £300! At the Digital Wise Guys we recommend going for a mid-range TV bracket. That will move about more effortlessly than a cheap one, plus it's holding up your lovely TV so don't go too cheap or it could end badly!
If you're using a company like ours (ahem!) to install a wall mount in your home then we can supply one for you. We don't want our customer's TVs to fall so you can bet we only use brackets that we trust 100%!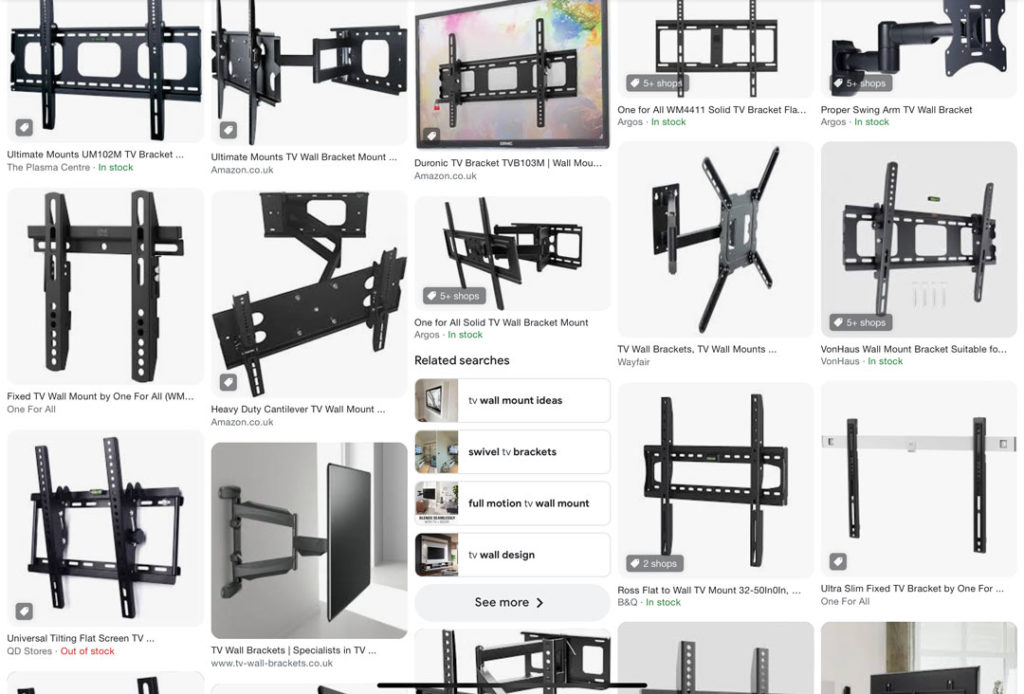 Full-motion mounts cost more than fixed ones. And some pricier ones will mean there's less of a gap between your TV and the wall. Some more expensive brackets have more points of articulation, giving you greater control over exactly how your TV is positioned. If you get a lot of glare from a window and you know you'll often be adjusting the angle and position of your TV, it's probably worth heading to a shop and asking to try a bracket. If it's stiff and difficult to move it may not be the best option for you. Especially given that it will only get harder to move when there's a TV on it.
Should I Install a TV Wall Mount Myself?
If you're handy with DIY then this should be a job you can take on yourself with no problem. But, if you're at all unsure about how to fix heavy objects to walls securely then it's worth talking to us. It's better to be safe than sorry, right? Plus we can get the job done quickly and efficiently while you can get on with more important things!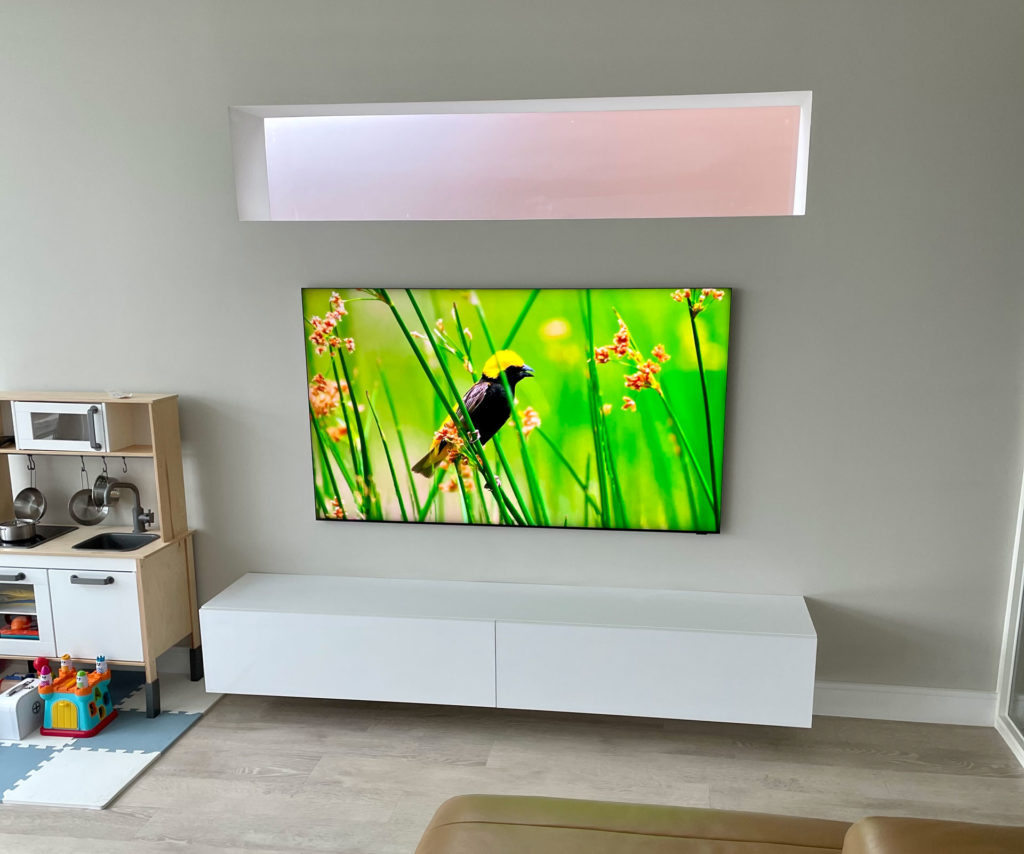 If you'd like us to mount your TV give us a call today on 0800 084 3094 or fill in our contact form here.
What Tools Will I Need to Install a TV Wall Mount?
You've got your TV wall mount and your TV, Yay! And you've decided you definitely want to take on this challenge yourself. Bravo! Now you just need to fix the bracket to the wall. But where do you start? Well, before you can get to work you'll need to gather some tools for the job. Here are some tips on what you'll need:
You'll need the right drill and drill bits. That means masonry bits if you're mounting the TV onto brickwork or wooden/metal bits for anything else.
You'll need at least one screwdriver to fix the bracket to the back of your TV.
The bolts for the TV mount will go deep into your wall to make sure your TV is secure. Therefore it's best to use a stud finder tool if you're installing onto plasterboard before you drill. That will ensure you drill into the wooden studs that support hollow walls. You won't need this if you're mounting your TV onto brickwork. Most stud finders will find pipes and wiring, too. Which will help you to avoid getting electrocuted or causing a flood!
Plasterboard fixings these days are really good but it's best to know what you're doing before you hang your TV with this type of fixing.
You'll need a tape measure to make sure the bracket is centred to the wall and for the height of the TV. And a spirit level to check the holes and the TV is level.
And finally, you'll need all the fixings (the raw plugs and screws that came with the bracket).
How to Install a TV Wall Mount
So you've got everything ready to start work. Let's get cracking (not the plasterboard though okay!?):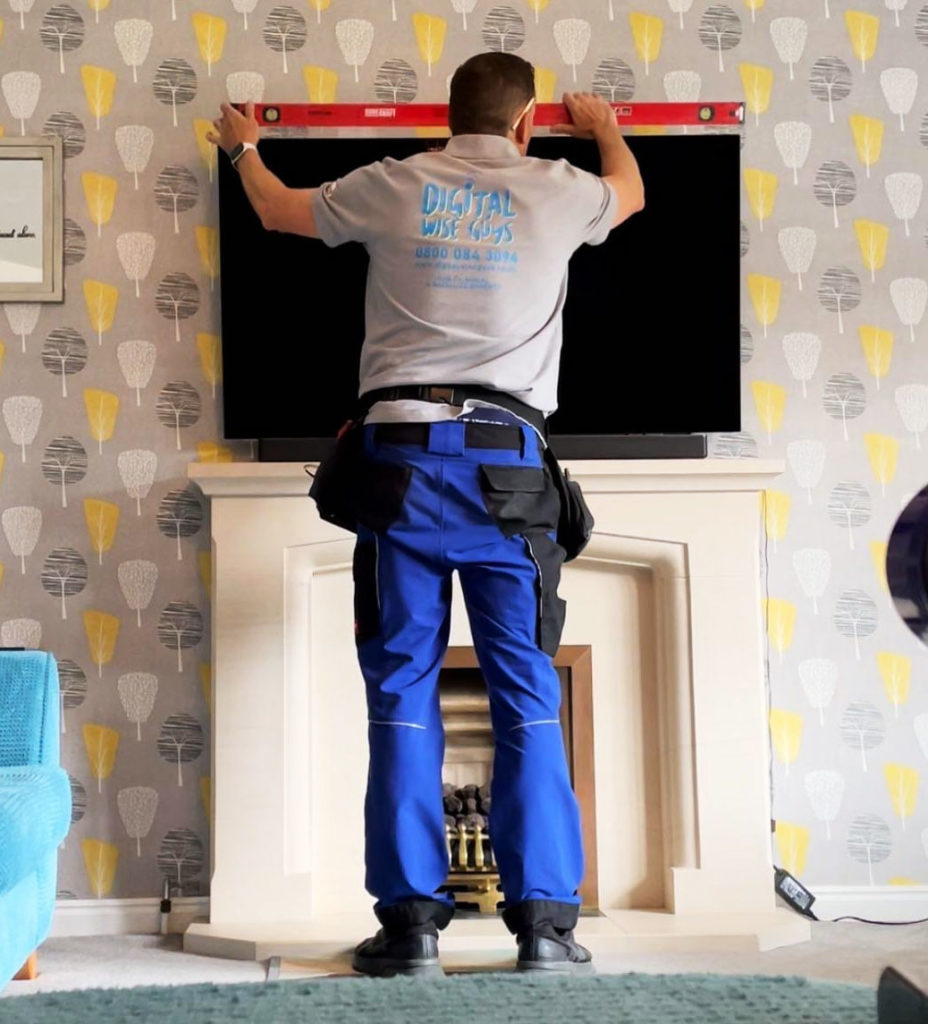 Figure out where to put the TV – First, carefully figure out where you want the TV to go on your wall. This might sound obvious but it's really worth taking some time on this because once you've got your TV fixed to the wall you aren't going to want to move it again. So make sure you put it in exactly the right place! Ideally, you want three people to do this: two to hold the TV and a third to sit down and give feedback on the position. Another option is to get some electrical tape and using a tape measure stick it to the wall outlining exactly where the TV will go. When you're happy with the position, mark the edges and corners with a pencil or tape.
Fix the bracket to the wall – Next, line up and hold the bracket to the wall making sure it is level with your spirit level and then mark where the bolt holes are. When you're happy with the bracket's position and that your marks are in the right place you can start drilling. Start by making small pilot holes and then use a drill bit that matches the size of the raw plugs that came with your mount to make the holes.
Fit the bracket to your TV – Wall mounts come in two parts, you've already fitted one to the wall and now you can fix the other part to your TV. Most mounts come with many different sizes of bolts for different TVs, so don't worry if the first few you try don't fit. Once you have the right ones, use them to attach the mount to the four holes on the back of your TV. Some wall mounts also have fastening screws that help secure the TV once both parts of the bracket are connected. Fit those loosely; you'll tighten them further once your TV is in position.
Mount the TV on the wall – You're now ready to put the TV on the wall. Hurray! We'd recommend plugging all the cables you need into the back of the TV before you do this next step as space may be tight once your TV is flush to the wall. Different mounts will have different mechanisms for attaching the two sections but, generally, the TV bracket will have hooks that slide behind the part of the bracket on your wall. It's good to have some help here because you don't want to come this far just to drop your TV! Once the two parts are together, tighten the fastening screws to hold everything in place.
And that's it, you're done! Congratulations, you can now brag to family and friends that you have a snazzy wall-mounted TV!
How to Hide Cables and Wires?
After you've gone to all the effort of mounting your TV on the wall, the last thing you want is to have unsightly cables dangling below it! There are a few options for hiding them and which you choose depends on personal preference, how many cables you have to hide and what kind of wall you're mounting your TV onto. The main options are generally known as trunking or threading.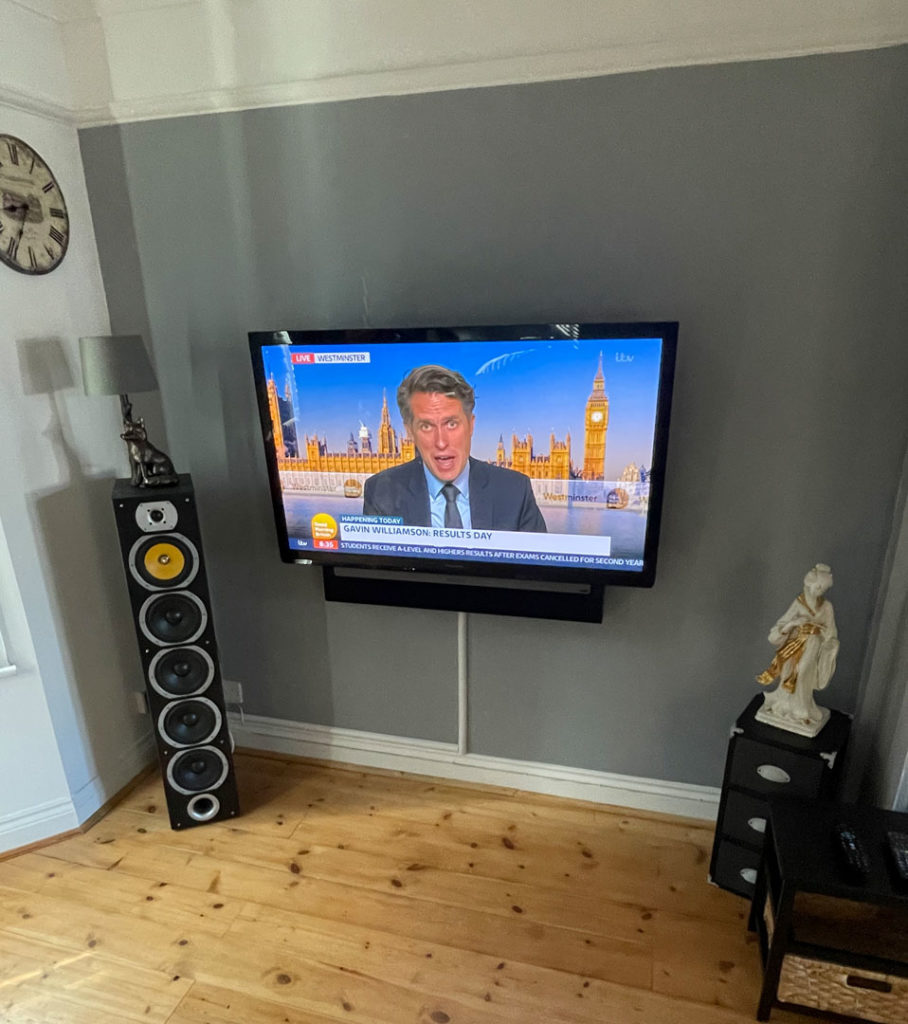 Trunking
If you only have a few cables, you can use trunking rather than threading them through your wall. Buy big enough trunking to fit all your wires through and try to get a colour that matches your wall. You can always paint trunking, too. Trunking may be your only option if you're mounting your TV straight onto masonry or brickwork.
Threading
To thread the cables through your wall requires a bit more DIY, but it's useful if you have a lot of cables or you don't like the look of trunking. We won't go into too much detail on how to thread cables here but basically, it involves making a hole behind where the TV will be mounted and threading all cables through it. You then make another below it and pull the cables through. You can neaten the holes you've made with a cheap plastic fitting. If you plan to do this, cut your holes to the right size for the fittings. Buy cables that are longer than you suspect you'll need. You don't want to pass the cables through only to realise they aren't long enough to reach your socket!
Conclusion
As we've shown, which type of bracket to get should depend on things like your optimal viewing position, the possibility of screen glare or whether you need some flexibility to view the screen at different angles. Our top tip is to go mid-range in terms of pricing so as to best protect your lovely TV! And whether you do the mounting yourself or call in the pros (hello there!), we think you'll be really happy you did!
Good luck, and enjoy!
If you'd like us to mount your TV give us a call today on 0800 084 3094 or fill in our contact form here.