Need a new TV aerial installed or an existing one repaired? Then you've come to the right place, my friend! Our TV Aerial Installation Service is carried out by our seasoned and highly experienced fitters.
Have you got a TV Aerial Emergency?
We can help! We know stressful it can be to lose the ability to watch TV. We often do same-day call outs for people with loss of signal or who need a new TV aerial installed in an emergency.
A Free and Impartial Quote
All the TV aerial work we quote is based on a free, no-obligation site survey where we go through all your requirements and assess the property.
Some FAQs about this service
How much does a TV aerial installation cost?
The cost of a new TV aerial can start from £69 up to around £200 depending on various factors which we'll explain during the survey.
Do I actually need an outdoor TV aerial?
You might not if you can already get a strong TV signal and live fairly near to a transmitter. In that case a decent quality indoor TV aerial might be sufficient to get a good picture.
Do I need an aerial for every TV in my house?
No you don't. Simple as that. There's no good reason to need more than one well installed aerial on your home.
Will you check for signal issues?
Yes, our TV engineers use a state of the art TV signal checking device during installations to make sure you'll get the best possible picture for your area.
Can a TV aerial be installed inside of my loft space?
If you're able to get a medium to strong TV signal (which we can check for you) then an in-loft aerial might be an option.
What if installing a TV Aerial isn't an option?
We'd be happy discuss to discuss your options and we also do Satellite Dish Installations which would enable you to use Sky or Freesat services.
5-Year Guarantee on all Work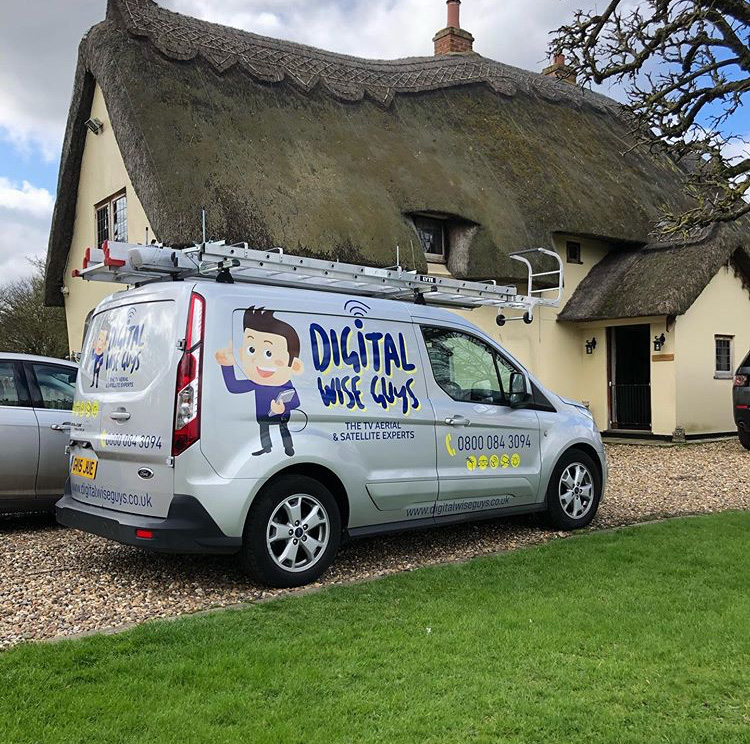 To give you extra peace of mind, all our work and labour is backed with our 5-year guarantee.
If you don't have an existing TV service through a receiver or built into your TV then we can help. We can set up everything you need to start watching your favourite shows. And in as many rooms as you like. Plus, we'll even supply you with batteries for your new remote control!
Aerial based TV service

We can install a full Freeview system including a high-gain digital TV aerial, an HD set-top box, remote control and any fixings and cables as required.
TV Aerials we install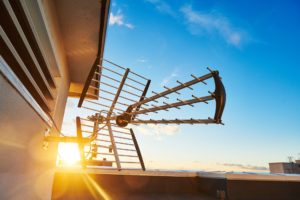 We carry a range of high-quality, CAI (Confederation of Aerial Industries) compliant, TV aerials. Our goal is always to provide the best reception for your viewing needs.
A digital TV aerial can be used separately or together with a Freeview receiver to provide a greater TV channel line-up. And increase your choice of programmes to watch. All completely free of monthly subscriptions!
Additional TV Points
A large part of our workload consists of installing additional outlets for customers who would like TV in multiple rooms. Actually, we can feed as many TV's as you like, all from just a single aerial. We can also set up your TV receiver or DVD player to play in another room such as a bedroom, study or kitchen etc.
At-height TV Aerial Installs
We can also reach heights other installers won't (literally) – even if another engineer says they cannot install your TV aerial, we can! We're specialists in at-height installations on large or tall properties. We're definitely not afraid of heights!!!
Maintenance, Servicing & Repair
If you're unlucky enough to have poor television reception then fear not, we can help. Bad reception can be due to several issues such as obstructions, water ingress or corrosion of the aerial. Therefore you'll need to have your set-up tested and we've got the specialist equipment to find out exactly what's wrong.
Would you like to know more about the science behind TV aerials?
Awesome, we've created a comprehensive guide packed full of aerial related science, history and information!
Please note – the guarantee we offer is not insurance backed.
Would you like a free quote?
Brilliant! We'd be happy to give you a quote for a new tv aerial installation or repair. Contact us now for a free, no-obligation, site survey so that we can go through all your requirements and decide on the best spot for your shiny new aerial or satellite dish.
We're endorsed by Which? Trusted Traders