Need a new satellite dish installed or an existing one repaired? Then you are certainly in the right place! Our Satellite Dish Installation Service is carried out by our seasoned and highly experienced fitters.
Have you got a Satellite Dish Emergency?
We can help! We know stressful it can be to lose the ability to watch TV. We often do same-day call outs for people with loss of signal or who need a new dish installed in an emergency.
A Free and Impartial Quote
All the satellite work we quote is based on a free, no-obligation site survey where we go through all your requirements and assess the property.
Some FAQs about this service
How much does a satellite dish installation cost?
The cost of a new satellite dish installed on your property will usually cost below £200 but it does depend on various factors which we'll explain during the survey.
Do I actually need an outdoor satellite dish?
If you want to watch Freesat, Freesat+ or Sky TV services then yes, you will definitely need a dish!
Do I need a satellite dish for each TV in my house?
No, you don't. You only need one dish and that can feed multiple rooms in your home although you will need extra equipment such as a set-top box to view TV.
Will you check for signal issues?
Yes, our Satellite TV engineers are TV signal experts! We use a state of the art signal checking device during installations to ensure that you'll get the best possible picture at all times.
Can a satellite dish be installed inside of my loft space?
Nope, it just won't work I'm afraid! The signal won't be able to penetrate your roof and also needs a line of sight to one of the satellites orbiting the earth.
I live in a block of flats, can you still install a dish for me?
Yes, we can but subject to an on-site survey first!
Can I also receive European satellite TV services?
Yes you can but you will need the right sized dish and a clear view of the numerous satellites that broadcast those European channels.
5-Year Guarantee on all Work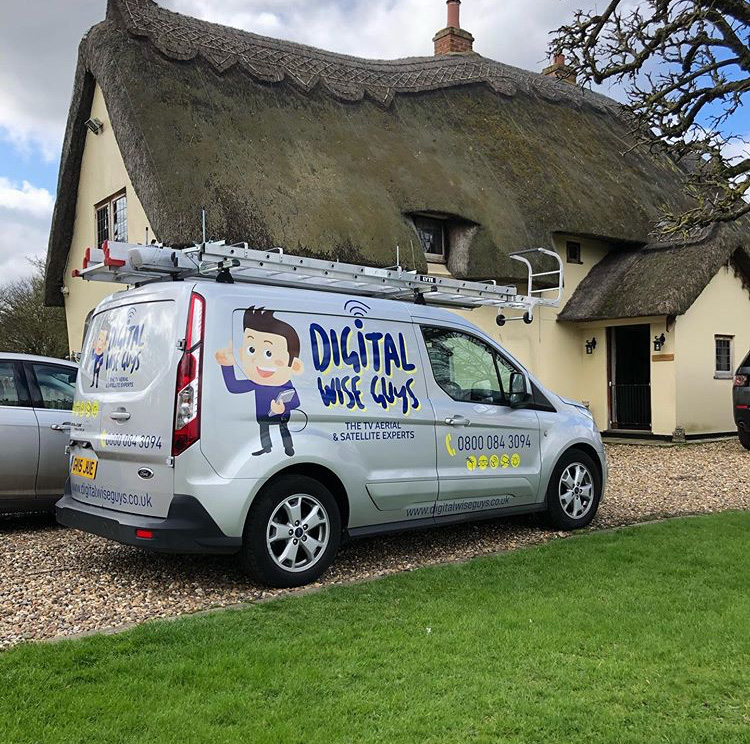 To give you extra peace of mind, all our work and labour is backed with our 5-year guarantee.
If you don't have an existing satellite TV service through then it's very likely we can help. We can set up everything you need to start watching your favourite shows. And in as many rooms as you like. Plus, we'll even supply you with batteries for your new remote control!
Satellite dish based TV services


We can install a full Freesat or Sky TV system including a discreet satellite dish, an HD set-top box, remote control and any fixings and cables as required. 
Independent Satellite Dish installer
We are fully experienced at installing Sky systems and we offer various options including multi-room installations and discreet or hidden satellite dishes.
What does independent mean?
It simply means we don't work for Sky and so we offer a range of related products and services that they won't cover (such as digital TV aerials, CCTV or TV wall mounting).
Additional TV Points
A large part of our workload consists of installing additional outlets for customers who would like TV in multiple rooms. Actually, we can feed as many TV's as you like, all from just a single aerial. We can also set up your TV receiver or DVD player to play in another room such as a bedroom, study or kitchen etc.
At-height Satellite Dish Installs
We can also reach heights other dish installers won't (literally). We get lots of calls from people who have been turned down by an official Sky engineer who couldn't install a dish on their property. We're specialists in at-height installations on large or tall properties. We're definitely not afraid of heights!!!
Maintenance, Servicing & Repair
We also repair satellite TV systems so if you're experiencing any loss of signal or bad picture quality then we can help you get it back to full working order. We offer a number of answers to these types of problems and we always come up with the best solution. Together we'll get to the bottom of the problem!
Please note – the guarantee we offer is not insurance backed.
Would you like a free quote?
Brilliant! We'd be happy to give you a quote for a new satellite dish installation or repair. Contact us now for a free, no-obligation, site survey so that we can go through all your requirements and decide on the best spot for your shiny satellite dish.
We're endorsed by Which? Trusted Traders